Welcome to the Preceptory!

his site is a repository of varied information on the Knights Templar, a military order of the early 12th to early 14th centuries, and other knightly matters of the period. It is maintained for the enjoyment of medieval history enthusiasts such as myself, and it does not attempt to be in any way definitive or historically correct further than the validity of the sources cited in it. On the other hand, it will contain information from a variety of sources and a bibliography on mediaeval history.

or those who wish to create links to this page, there is more information on that here.

hope you will find these pages useful and informative. The number of pages has grown at a slow but steady pace, so you may want to pop in every now and again to see new topics. If you wish to have a quick tour of the Preceptory, just click;

Should you wish to search the site for specific names or words, there is a search engine which you can start by clicking here.

he Quick tour also contains a complete topic list. This page is optimized for Microsoft's Internet Explorer some visual features may appear impaired when viewed in some other browser, and the background bells won't sound otherwise. For readability reasons I suggest you use Arial 12 or 14 Bold or similar font on the body text. Also the background sounds need Explorer and a sound card to be enjoyed fully. I hope you enjoy your visit and return soon for new material.
---
ou are currently standing at the Preceptory Portcullis.
Please select the area of the Preceptory you wish to visit.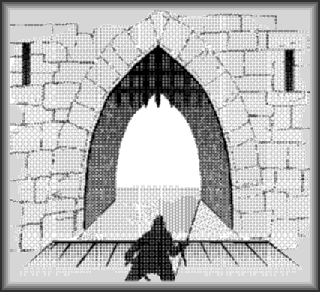 lease drop me a line if you find something worth commenting on these pages. Especially comments leading to the discovery of new, hitherto unlisted bibliographical entries would be very much appreciated, but general comments are also needed to make the Preceptory a bustling center of medieval information. (Hint: You can have your name listed among the venerable Patrons of the Preceptory...!)

he Preceptory has been in existence since May 1995. This is the current number of visitors to the new Web Server:
FastCounter by LinkExchange

he background sound is from Ondine Inc's wonderful CD, "Memoria Sancti Henrici" (ODE 874-2), which is a mediaeval chant for the patron saint of Finland. The clip is from the versicle "Deus in adiutorium". The clip is used by kind permission from Ondine. If your browser doesn't support background sounds, but you want to hear it anyway, click here.
The Music clips have been removed as the website now exceeds its alloted bandwidth
---

elated Web Sites on the same Server:
The Web Surfers Guide to the Knights Hospitaller The Knights Hospitaller, Ancient and Modern
---

he original author of this site is Heikki Hietala - the original site appeared on; http://www.trantex.fi/staff/heikkih/knights/portcull.htm
Permission has been given to the present editor - Rusticus, to continue the work.
Rusticus, Ascension Day 2003.

isclaimer: This site does not have any affiliation with Freemasonry, the Society for Creative Anachronism, or any other organization, despite the fact that many pages with such connections are linked to the Preceptory. It is maintained solely for the enjoyment of mediaeval history enthusiasts."
---