---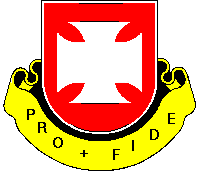 The Knights Hospitaller
in the History of Western Civilisation:
---
---
HISTORY OF THE ORDER (General) --- WRITINGS AND SYMBOLS OF THE ORDER ---

THE KNIGHTS AS PHYSICIANS ---
---
The Order of the Hospital of Saint John of Jerusalem originated in the Eleventh Century as a monastic brotherhood caring for the needs of Latin pilgrims in the Holy Land. The Order's founder, Blessed Gérard, was not an aristocrat, but after the first Crusade, which took place in his lifetime, the Hospital staff began to include demobilised knights. Inevitably, as the Crusader States found themselves in a condition of perpetual war, the brethren of the Order were soon found serving as medics and then as combatants, becoming (with their rivals the Knights Templar) the most discilplined Christian military force in Outremer and the mediæval equivalent of a multinational corporation.
But their history did not end with the failure of the Crusades, as the Templars' did. Their military, commercial, and humanitarian activities were relocated first to the Ægean and then to Malta; the "last Crusaders" survived anachronistically into the era of the French Revolution. Even after Napoleon captured their island stronghold, representatives of the Sovereign Order continued to negotiate with the Pope, the Russian Czar, and the monarchs of Europe for a return to power. It never came, and none of the various organizations claiming with various degrees of plausibility to be the Order's heir can be said to much resemble the Order in its days of greatness. However, at least some of these organizations, including the two largest, have rededicated themselves to the charitable work originally intended for the Hospitallers by their founder.
On this page may be found general historical links about the Order; for information on specific eras please consult the pages devoted specifically to the Crusader era, the stay in the Greek isles, the Maltese period, the Napoleonic interlude,or the modern era.
Archives of the Order of St. John, from the Bibljoteka Nazzjonali, Valletta (Malta Study Center, Hill Monastic Library)
Blessed Gérard Tonque and his "Everlasting Brotherhood", by Gérard T. Lagleder Includes primary sources. (Brotherhood of Bl. Gérard).
Hospitallers of St. John of Jerusalem: (Catholic Encyclopedia, 1913 Edition)
A Brief History of the Order of Malta: From the Polish Association of SMOM.
History of the Order of Malta: From the SMOM Museum in Switzerland.
History of the Order of Malta (Very impressive document, by Michael Mifsud.) (Gone?)
The Sovereign Military Order of Saint-John (a.k.a. Malta) , by François R. Velde (Includes a discussion of the Order's heraldry.)
The Knights of Saint John in England, Scotland, and Ireland before the Reformation, by Guy Stair Sainty (Venerable Order)
The Knights Hospitallers in Poland, by Darius von Güttner Sporzynski: A fairly long historical account.
Medieval Medical Bibliography, by Robert A. Laures: (University of Kansas)
St John's Wort: This herb has long been prominent in folk medicine and, as its name suggests, was prized by the Hospitallers. In some countries, including England, it was also used to decorate houses on St. John's Day. Recently, the Knights' herb has increasingly begun attracting the attention of modern medical researchers. Here is a bibliography of refereed technical papers on the use of St. John's wort to treat depression. (Texas Medical Center)
The Dwejra Area, by Caroline Gatt: Gozo, one of the Maltese Islands, is notable as the site of the General's Rock, on which grew the Fungus Gaulitanus. This "fungus" is actually a strange flowering plant, Cynomorium coccineum, which possesses no chlorophyll. It was considered one of the treasures of the Order, and was thought to have remarkable curative properties. Indeed, the nearby Tower of Dwejra is said to have been built partly to guard the Fungus Gaulitanus. ( Cynomorium, incidentally, is also used as an emergency survival food by Middle Eastern nomads, and is mentioned as such in Job 30:4.) (San Anton School, Malta)
---
The editor of this page welcomes further information. Please contact Hospitaller, hospitaller@webpages.free-online.co.uk