---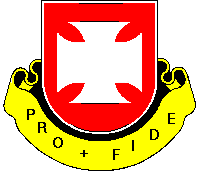 Military and Hospitaller Orders
Other than the Order of Saint John:
---
---
The idea of combining warfare and healthcare seems rather odd to the modern mind, but the success of the Hospitallers inspired numerous imitators. Knights, after all, were supposed to do good. The idea of a "chivalric order" was tremendously appealing to mediævals, seeming to reconcile the aristocratic way of life with the Church's monastic ideals. The orders often claimed to be descended from elite units of the old Roman army and to be the defenders of Christian civilisation from its enemies. As time passed, however, the tension between loyalty to the Church, the State, and the Order's own leadership became intense in every Order, and in the end all were suppressed, amalgamated, disarmed, or redirected.
All modern orders of chivalry should be viewed with caution; some are on the level, some are not.
---
Teutonic Knights -- Templars -- Knights of Lazarus -- Mercedarians -- Knights of the Holy Sepulchre
---
GENERAL AND VARIOUS:
---
A pair of crusading orders (eventually merged into one) which proved less important in the Middle East than in other theaters of the Crusades: they defeated the last polytheistic tribes in Eastern Europe, then warred intermittently against the Eastern Orthodox. Prussian military culture is partly derived from this Order, remnants of which (purely religious or philanthropic) still exist.
---
The Hospitallers' competition during the Crusades, afterwards suppressed amid lurid rumors.
---
This Order claimed to have originated either in pre-Christian times (founded by the Jewish priest-king John Hyrcanus) or in the Fourth Century (founded by St. Basil the Great). During the Crusades, the Orthodox monastic hospitaller brotherhood dedicated to St. Lazarus was transformed into a Roman Catholic Order of Chivalry. It survived until at least the French Revolution; some modern groups claim to continue it today.
---
An Order prominent in Spain and later in the New World, more for religious and charitable activities than for military ones. Originally a military Order, its Knights were suppressed in the 1300s. It has survived to the present day as an Order of Friars, closely associated with Spanish and Portuguese civilisation.
THE KNIGHTS OF THE HOLY SEPULCHRE:
Partly absorbed by the Order of St. John, and likewise now fragmented into numerous Roman Catholic, Protestant, Orthodox, and other splinters, some of them completely fraudulent imitations.
---
Search this Site
The editor of this page welcomes further information. Please contact Hospitaller, hospitaller@webpages.free-online.co.uk